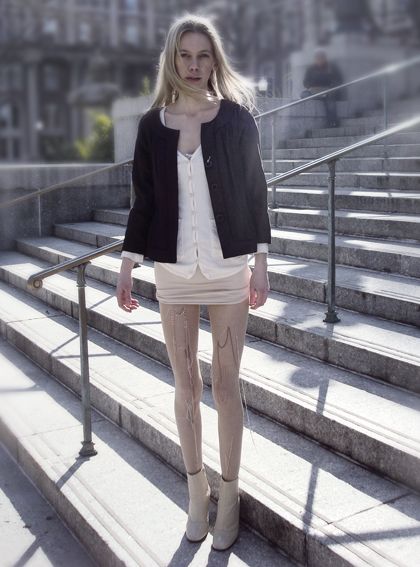 these are my DIY embellished tights, I embellished them with chains.
What I wear; Mint Jacket (consignment store/tokio7 $70), Sass&Bide dress (consignment $45) cardigan Marc by Marc Jacobs (consignment/tokio7 $30) Boots Miu Miu (consignment/tokio7 $90) Tights by me and still in progress haha 🙂
I'm embellishing these tights with chains, thick, thin, silver, gold and copper, I figured out by smartly dividing the weight that the tights don't run!! With walking around it hold perfectly too, and gives an amazing effect, especially when it gets dark!!
And before I forget.. This Swedish website decided to put my Snout on their street section,
anyways, you can go to the site, by clicking on the photo's you can vote by clicking on the "heart" you guys will see some more familiar faces 🙂 🙂