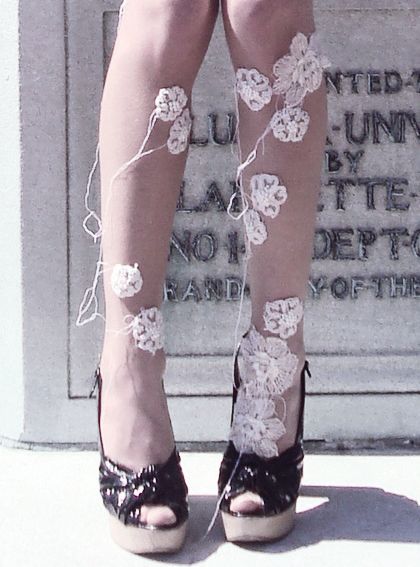 So I started to DIY embellished tights, spent the late night hours doing it and it feels so good to finally make things again haha..
I was today in China Town hoping to find some knock off Chanel and LV tight but no luck 🙁
I did bought two knock off real leather Chanel bags lol, dude they come with little Chanel booklets and authenticity cards (with serial number) all high quality paper!!?? better be careful with ebay stuff because these are copied into every little detail!
Its so fun though, to follow this Chinese lady to little back-rooms or being taken to a warehouse in some dark alley, today she walked me to her SUV, someone was standing on watch, it was clear, we went into the car, she showed me what she got, made the payment, then she called the "watch-out" to make sure there wasn't any police and I left… haha Chanel Dealer…
Anyway.. on the first photo, I wear a vintage blouse under my shredded t-shirt (shirt done by; whatwerock) and again my tutu to create silhouette, on the other photos its just the shirt, I choose to wear the tights with something more rough and dark, guess it was my mood..
More tights coming up 🙂 xoxo