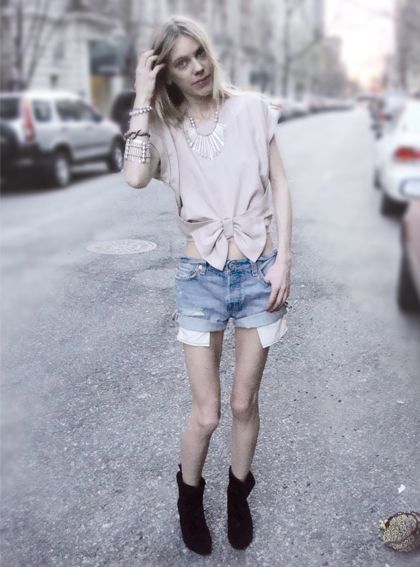 The jeans and shoes are from Urban Outfitters, just got them this Friday 🙂 and I have to say that I forgot how comfi those Levi's were! These booties i just loved instantly, the heel is not too high and they can go with lots of stuff..
I have no idea how long these shorts are going to last in Urban Outfitters..
The top is from H&M about 25 dollars, the fit is very wide and not as tailored as I had hoped it to be but of course I did some nip and tuck, pined the shirt in the back and this shirt is longer, the bow falls on the waist, maybe a bit under it, so I grabbed all under the bow and folded it up.. I love this shirt for the simple reason that you can wear it in a zillion ways!!
I'm still with my snout and outfits on this Swedish website too 🙂 hope you guys check it out and vote 🙂 🙂 and check out their street section too, its really good!
dagensoutfit
** ahhh just found out some of my favorite girls are on there too :)Love them so much! familiar faces from chictopia who are not only seriously fabulous but also the sweetest girls too! ah what the hell support us all lol :)**
I of course have spent the last few days eyeballing some stuff haha, and will post it tomorrow 🙂
xoxo