Here it is the Tutorial to the Miu Miu embellished tights I'm wearing HERE
What you will need for this tutorial;
Computer/Printer/Copy Machine
Transfer Iron-on sheets
Iron
Fabric, a meter/yard or half a meter/yard of cotton or in my case a blush/soft pink silk sateen
Scissors
Tights, sheer nude
Sew-on Jewels
Needle and Thread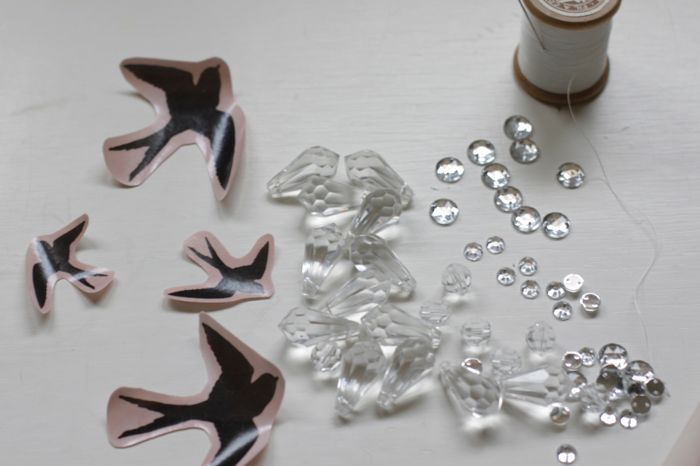 As for the stones, I used tear shaped (plastic) Crystals, round glass Crystals beads and two sizes of acrylic sew-on jewels. You can find the jewels in most (online) hobby, art and craft stores, if you find a link to the tear shaped crystals you can maybe leave the link in the comments for others to see…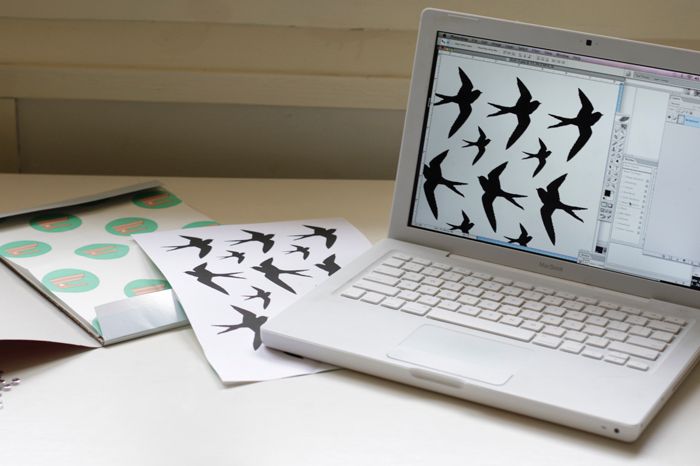 You will need to print the Swallows on Transfer Iron-on Paper, You can find and download my high res Swallow Print HERE
Best way to print THE SWALLOWS would be of course to do it professionally, but "iron-on transfer sheets" for fabrics are a cool alternative, another alternative can be to draw your own swallows on the fabric directly, There are a lot of brands and different sheets for different printers and color of fabric, you will find instructions on how to use it included in the package.
here you can find some HP transfer papers to get an idea (I actually use a very cheap unknown brand) HP transfer papers

Follow the instructions (as much as possible) you got with your Transfer Paper and Iron on the Swallows.
It will prob come down to the same; the sheets are for cotton fabrics since the print is only transferred with heat, I ironed them on silk fabric anyway causing some birds to burn but most came out okay. I Ironed the birds on the matte side of the silk sateen and went for a light pink/blush fabric color, light blue would be amazing too.
The sheets will (almost) always give you a plastic-y stiff layer which I liked because it made my birds more solid and steady to sew on.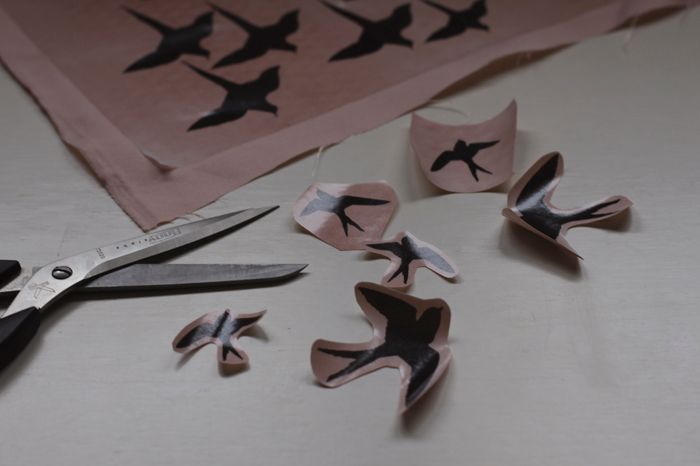 Cut the Birds out of your sheets, leaving some space around them and try to make as much as rounded edges as possible, you can cut all around the birds too, making it truly hellish to sew them on plus the look is somehow less attractive..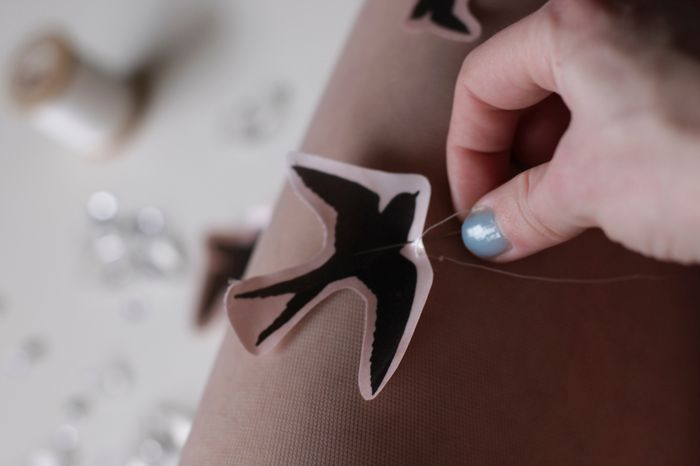 After cutting out the Swallows you are ready to start to sew them on the tights, I always wear the tights while sewing them on, you can use whatever stitch you want, when placing the birds try to use them in different angles/ rotate the swallows to find the best look and play with it, you can lay them out on a paper first to see and test placement if you want to practice a bit first.
My golden rule about placement would be;
Place them Irregular, never work with placing them horizontal or vertical under or next to each other but work in a Vertical line between the birds if you must, spy for placement HERE if you look closely you can see the vertical lines of placement.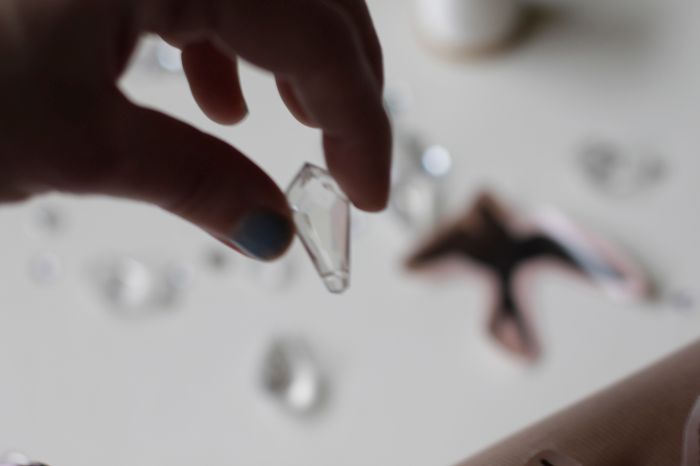 I always first place all the birds before I start to sew on the jewels, and the tights look amazing without the jewels too so you might decide to skip the Crystals.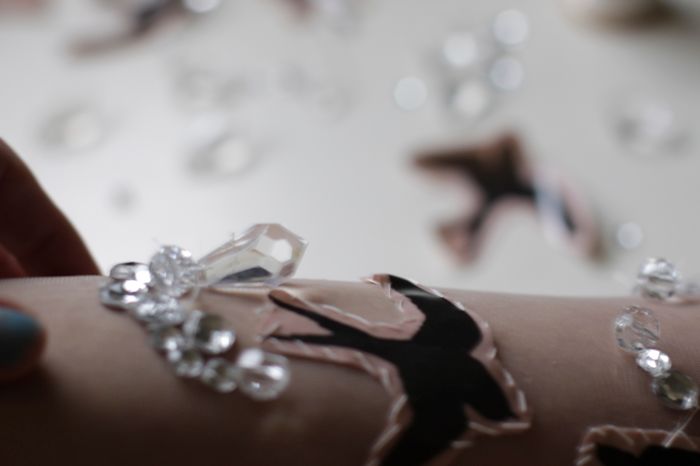 I placed the Jewels in little clusters and made sure they were absolutely solid attached.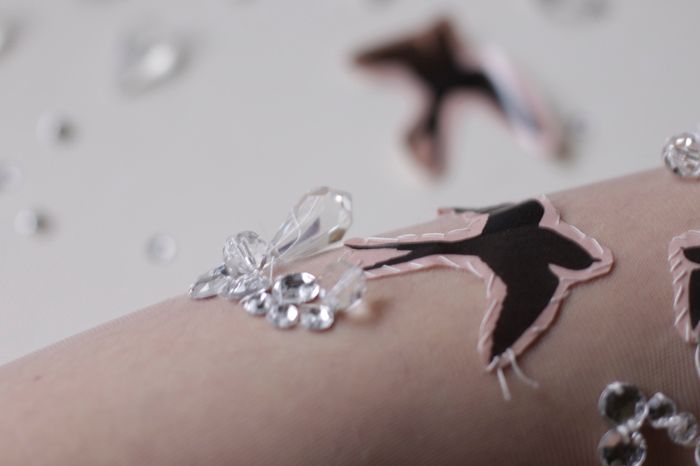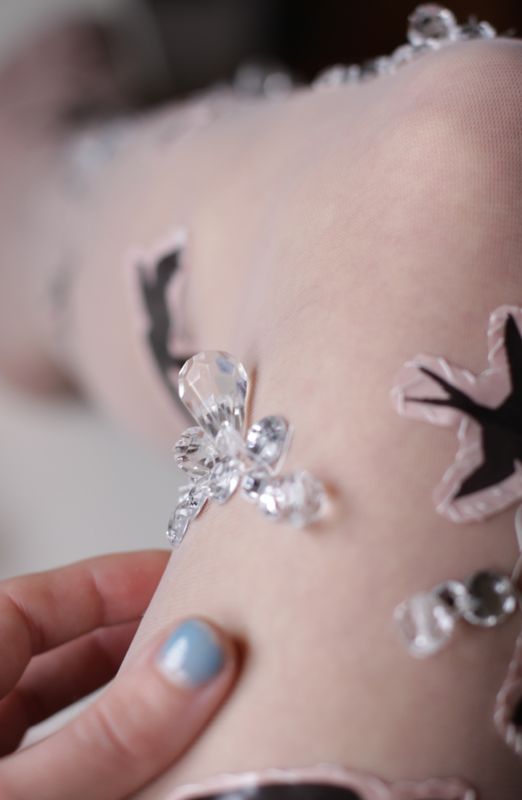 e voila 🙂 Hope you like it 🙂