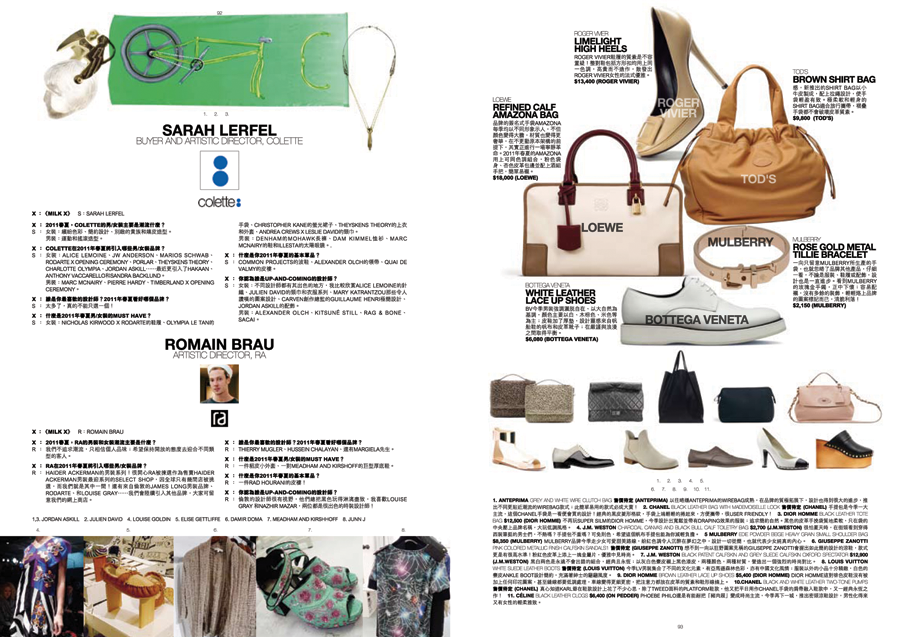 So honored that I was asked to give my insights about upcoming Spring Summer 2011 trends in Milk X magazine among Maria Luisa, buyers and artistic directors from Colette, Opening Ceremony, Net-a-Porter, Beams and bloggers Bryan Boy, Jenn Camp from Le Fashion and Kimberley Brandsma!!
here is what I said (translated);

1. What are the trends in coming 2011 S/S?
On the runway we saw a lot of optimistic bright and vivid colors, minimalistic silhouettes, clinic whites and various ethnic themes. Other trends that absolutely can't be underestimated are the Asian themes as seen in Louis Vuitton, 70's themes with flare and wide legged jeans (also seen with a rock n' roll attitude) and Chloe's ballet theme.

2. Any new brands in 2011 S/S?
I'm keeping an close eye on Carven, Ryota Shiga, Dimepiece and Sretsis
3. Please share with us your all-time-favorite brand/ designer? How about in
2011S/S?
Jan Taminiau and for SS2011 it's Chloe's Hannah MacGibbon

4. What are the fashion items a woman should possess in 2011S/S season?
Chloe ballet flats, Leather biker jackets, ethnic/Asian printed dresses
5. What's your basic items in 2011 S/S
A classic white shirt, flared jeans and pants, classic beige colored high waisted shorts, vintage reworked kimono's.
6. In your opinion, who is the up-and-coming designer?
Dion Lee

xoxo