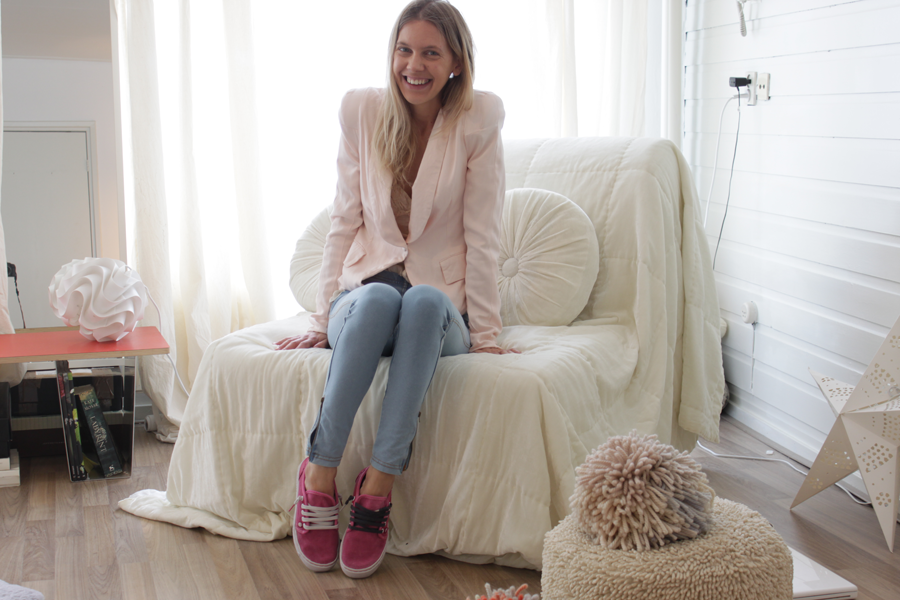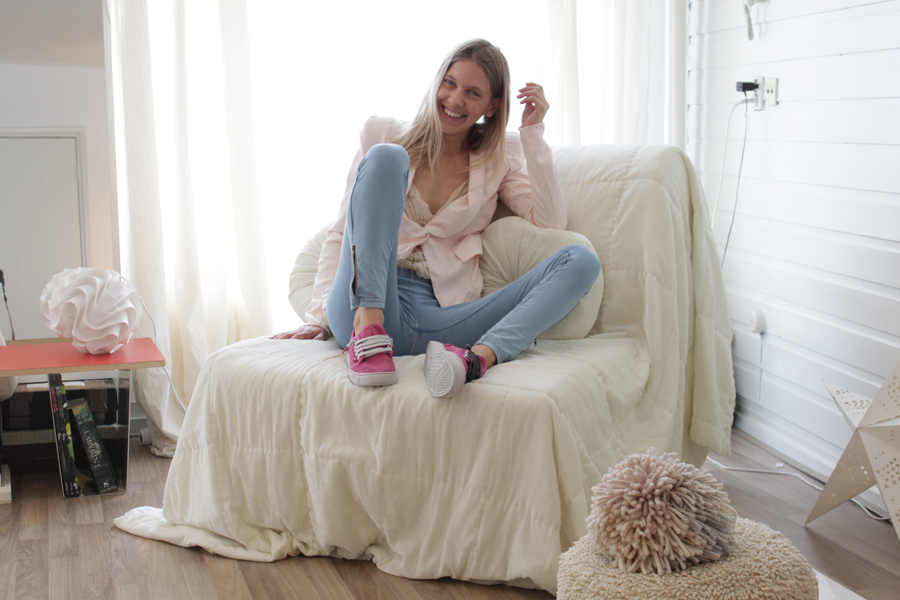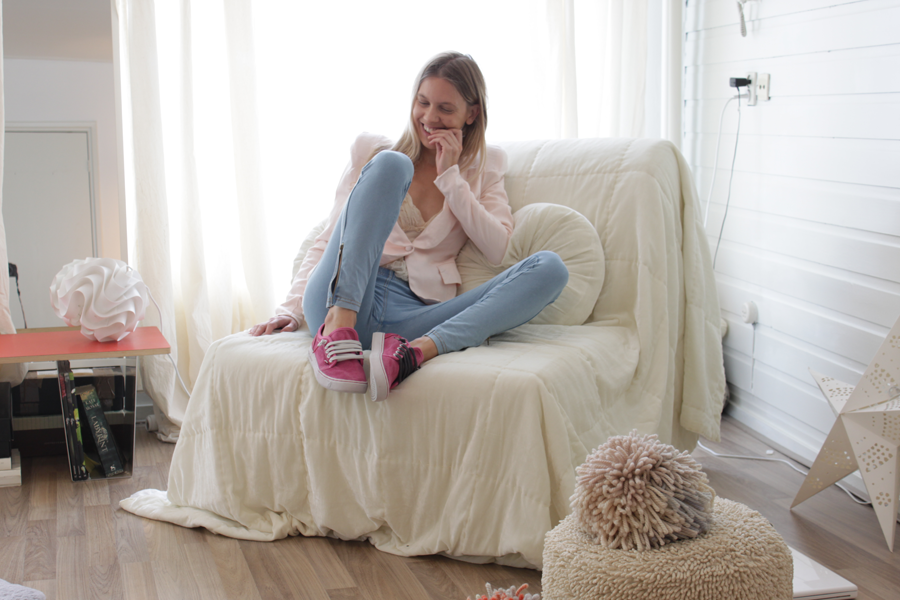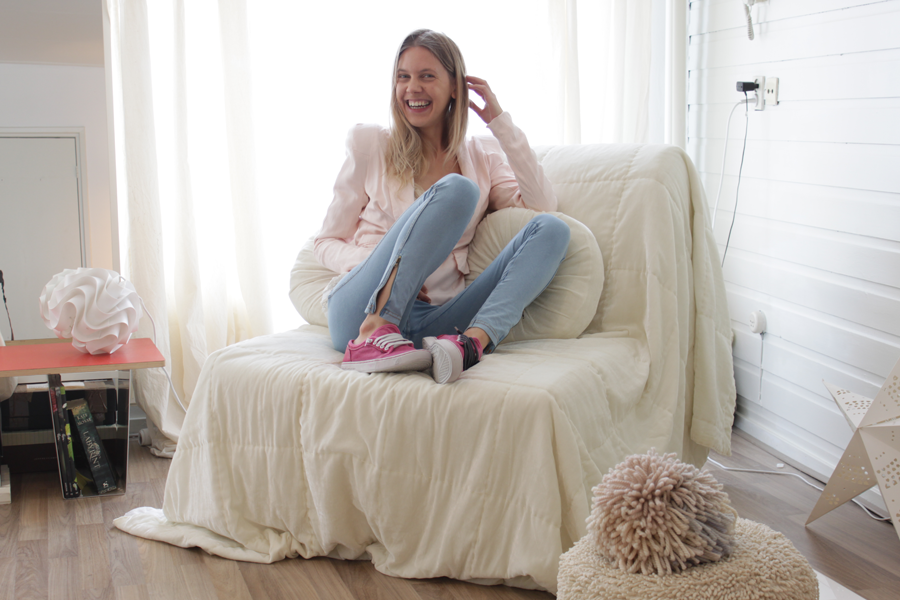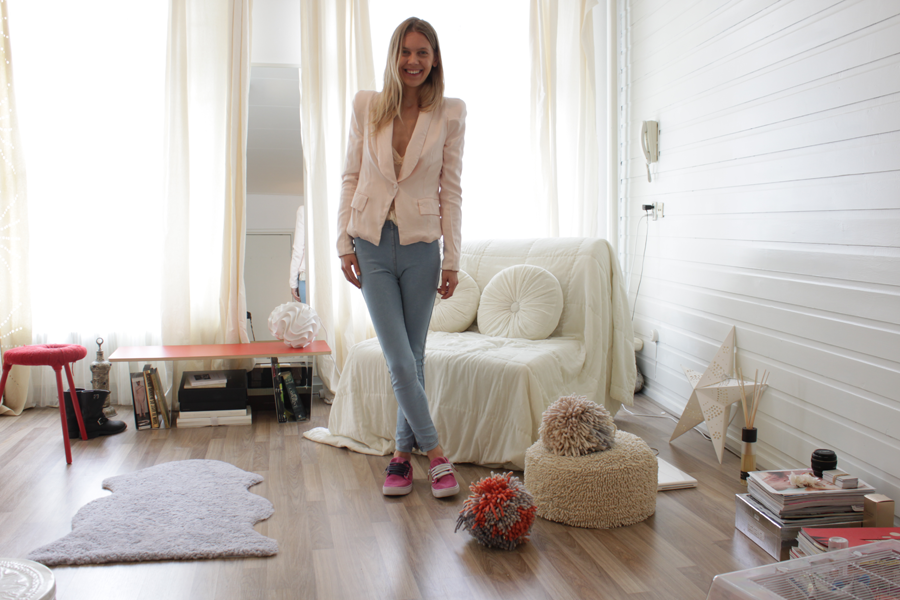 I'm wearing; Satorisan sneakers, Stylestalker blazer, H&M leggings, Chloe top
As promised an outfit with some color and some photos of my new home!
The velvet plaid and pillows covering the Chair are from H&M home (bought online just a few weeks ago) and the Red bench, the lamp on the bench and the cream colored yarn sit sack are from a store in the East Village called "Tiny Apartments" the big pompoms are a "do it your self", I would have made more and bigger ones if I didn't run out of yarn haha

The sneakers are from a new Spanish brand called Satorisan and are kind of like Vans but then made out of a perforated washed-out-look leather. And for those who aren't familiar with Stylestalker, seriously check it out!
The past few weeks I felt so shitty because my hair had turned a brassy yellow and my very fair skin was blotchy/patchy thanks to a decade of sun-damage and a smoking habit..
Seriously be very careful with the sun especially if you have a fair skin, you don't see what it does when you are in your 20's but when you hit 30s like me it will bite you in the ass, same with smoking.
Anyway I had my fix and feel so much better! With fix I mean lots of silver shampoo and a self tanner haha.. I used the Sensai Silky Bronze from Kanebo, a bit pricey but the color came out nice, still a bit too orange for me but I think that's just inevitable on fair skin and it left my skin radiant and moisturized.. Seriously I feel rejuvenated lol its like a body foundation, now I don't have to wear make-up 😉

xoxo